Memories for Miriam, Alice, Theo, Delia, Tessa and anyone else who would like to be here
When I was a little girl, my best friend was named Judy. I have already mentioned how Judy used to go to the St.Louis Zoo very often, and visit a llama. Here is an old post card of children petting the llamas the way Judy used to do:
When my mother made an alphbet book, she used a picture of Judy's llama for the letter L, which you can also see here. My mother wrote: "We know a llama whose name is 'Judy.' Her black spots make her a beauty."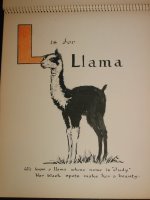 Judy and I used to play together. She lived on the first floor of the apartment building. We lived on the third floor. Her mother's name was Pearl and her father's name was Ray. She didn't have any sisters or brothers.
Sometimes we played outside. Judy liked to play ball and run around. She liked to wear jeans. She would have us pretend to be the Lone Ranger or some other cowboys. She liked to listen to "The Lone Ranger" on the radio. The radio was big, and the speakers were near the floor, so we would sit right next to the radio to listen. Listening was like having a story read outloud, without seeing any pictures. Different voices would be different people.
In "The Lone Ranger" on the radio, the two main people were the Lone Ranger and his friend Tonto. His horse would make a high whinny when he said "Hi-Ho Silver. Away." Then music would play and you could hear Silver's hooves on the trail. The Lone Ranger and Tonto would catch bad people who were doing things like stealing horses from good people. The Lone Ranger wore a mask and never told anyone his name. Judy really liked "The Lone Ranger."
There were some other kids in the apartment building and on our block too. In this picture, Marsha (who lived across the hall with her little sister JerriAnn), me, and Judy are in the top row. Elaine and two boys named Toby and Scott are in the bottom row. Most of the kids in the neighborhood were younger than I was, but Judy was three years older than I was. When I first went to school, she knew all about it, and walked with me so that I would learn the way. That was why she was my best friend.